Available at Skin Decor, ClearLift Q-Switched Nd: YAG laser is one of the most effective and powerful tattoo removal technologies of today.
'What was once permanent can now be history'
Using a dual-wavelength system it can cover a broad spectrum of tattoo colors. With serial visits, tattoos can now be removed safely and efficiently!!!
How Does The Q-Switch Laser Treatment Work
During a tattoo removal procedure, laser light is applied to the tattooed area of the skin where it is selectively absorbed by the tattoo ink particles. With the photoacoustic effect, the tattoo particles are destroyed. They are later filtered by the body's immune system causing the tattoo to fade without the side effects of scarring. Over a series of treatments, more and more of the ink shatters, leaving the skin free of ink.
Tattoo ink can be difficult to shatter and remove. Q-switched lasers are specially designed for this purpose. The 1064nm wavelength destroys the darker colors whereas 532 nm wavelength is suitable for brighter colors. Darker colors such as black, dark blue generally respond better.
Is it painful?
The laser light will selectively target the tattoo ink or pigment while leaving the other tissues largely unaffected. Most patients have experienced only minimal discomfort during the laser tattoo removal procedure. The application of a topical anesthetic can be done to minimize any discomfort.
What Happens After Laser Tattoo Removal?
There might be slight redness, blistering, and swelling on the treated area which is temporary. The tattoo will fade over the next few weeks. There is little to no downtime related to laser tattoo removal. You should be able to return to work and resume regular activities immediately after the procedure. We give detailed aftercare instructions after the procedure.
How Long Does Laser Tattoo Removal Take?
The treatment session generally takes about 10 to 30 minutes depending on the site and size of the tattoo.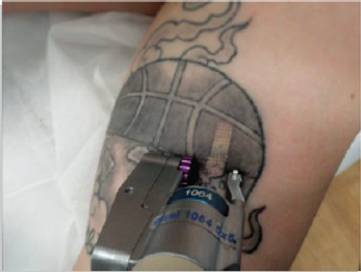 How many sessions are required?
On average, most tattoos require 6-8 sessions spaced 3 weeks apart, in order to give your body sufficient time to fully eliminate the loosened particles of tattoo ink or pigment. However, this frequency depends on multiple factors such as the location of the tattoo, skin type and color, types of inks and colors used, the depth of the ink in the skin, the age of the tattoo, and the general health of the patient.